Epic Production Now Recruiting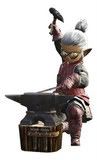 Epic Production is now recruiting all crafting classes. Epic Production is a social crafting linkshell for the Wutai server and look forward to building a solid base of crafters from all over Eorzea to contribute and socialize with. You are welcome to make Epic Production your main or secondary linkshell in FFXIV.
Check out our website at
Epic Production
. We have full forums for all crafting classes and are looking toward using ventrillo in the future. Our forums are also set up to assist in buying, trading and selling with your fellow Wutai crafters.
Check us out if you would like to be part of building a strong cooperative community on the Wutai server and chat with us regarding all your crafting adventures. We look forward to building a strong group and possibly be involved in future Companies and Co-Ops with other guilds as the game builds.
Sound interesting? Head over to the
website
to register for forum use, and click join us to tell us about yourself and register your character. Currently "Sheeba Diabolos" is our contact character in game for linkpearls, so be sure to add her to your friendlist.